In this edition of 5  Questions, we talked with Bryan Beran, Director, Volunteer Engagement and Giving, who has been supporting the team's volunteering and fundraising programs since the Rocket Community Fund began. Bryan discusses how his passion for making an impact led him to pursue this as a career, the challenges and triumphs of leading the team through the pandemic, and how he is carrying on his family's artistic legacy through a hobby-turned-side-hustle. 
Rocket Community Fund: You've been working in the volunteer engagement and giving space for a long time. What motivated you to get into this work?
Bryan Beran: Well for starters, I was born and raised in the metro Detroit area. Throughout my life, I have been involved with organizations and opportunities that contribute to the community, like coordinating  community-focused events and opportunities throughout high school Student Senate and my Fraternity experience. After a few years of living out of state, I wanted to return to Detroit to advance my career and while also playing a role in the future of the city. At the time, Rocket Community Fund was the Community Relations team within Rock Ventures. Researching the team and the role they played within the organization, I knew that it was exactly where I was meant to be in my career journey.
RCF: Why do you think it's important for organizations to encourage their team members to get involved with the community?
BB: There are many benefits for organizations to encourage their team members to get involved with the community. Research shows that corporate social responsibility and a strong sense of employee purpose actively contribute to increased employee engagement. Simply put, company volunteer engagement and giving can help provide team members with a sense of meaning and belonging within the organization. We know our team members want to feel good about the work we're doing in the community, and they want to be a part of that positive impact
RCF: What inspires you about our team members and their advocacy and passion for our community?
BB: We connect team members with nonprofits in our communities and then foster opportunity for them to further engage and become a force for good. It always inspires me just how far they take it. Our team members are our biggest champions and advocates for our nonprofit partners. Over the past eight years, I have witnessed team members participating in our volunteer engagement and giving programming who then continue to build strong relationships with organizations that align with their personal passions. That's the power of this work.
RCF: What initiatives or programs are you most proud of?
BB: The landscape of volunteerism and fundraising has changed drastically in the past few years, due in part to the impact of the pandemic. I'm really proud of the work that the Volunteer Engagement & Giving team has accomplished to adapt and update our team's strategies to ensure we were meeting the critical needs of our nonprofit partners. At the same time, we have been able to meet our team members where they're at, by continually updating and expanding the ways that they can make an impact in a way that works best for them. That's how we were able to increase team member engagement across our programming, exceeding our initial goal of reaching 60% participation in 2022 to 71% participation. We are a small but mighty team, and I think the intentionality behind this work is felt by our team members, to make the experience seamless for them as possible. Thanks to these efforts we were able to surpass our goals.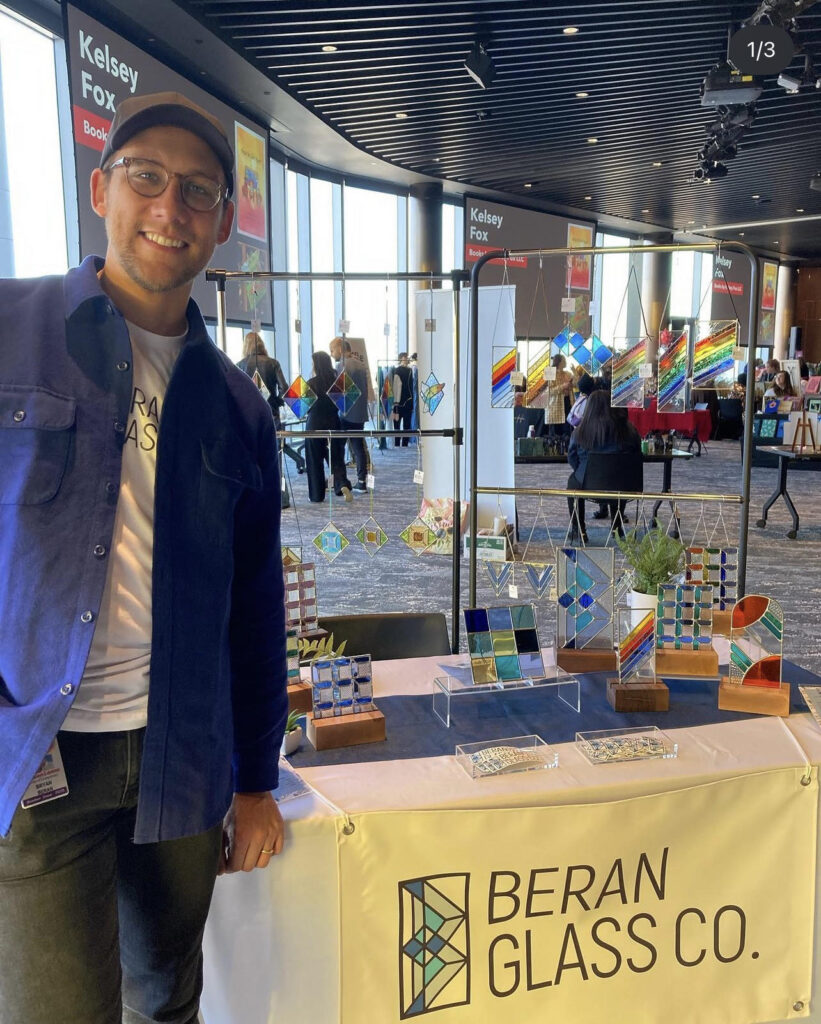 RCF: We know you are quite the stained-glass artist from following @beranglass on Instagram. Can you talk about what sparked your interest to learn how to make stained glass and how you got started?
BB: Growing up, I always knew that my great grandfather was a stained-glass artist professionally in Detroit and that my dad had experience with it as a hobby as well. However, it wasn't until Summer 2021 when I found a broken stained glass jewelry box in my mom's garage that finally sparked my interest to learn how to make stained glass. My mom mentioned that my dad made the jewelry box for her as an anniversary gift and could never figure out how to properly attach the lid hinge. Although the jewelry box was cracked, the colored glass and geometric design was still beautiful. And from that moment on, I was hooked! I went all in and purchased the tools and materials that are required to make stained glass designs and started my self-taught journey of learning each step of the process. I incorporate vintage glass and design queues from my great grandfather and my dad into the pieces that I make. Although I have only been making stained glass for a few years now, it has been really rewarding to carry on a family tradition.
April 19, 2023